The Nebulous Paradox of Modern Clarinet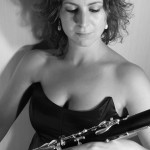 May the classical player play Weber's concertos differently from the last time performed. Some may say this is a challenge, but when looked upon in the bright light of reality it is not really. Great clarinetists do this consistently and naturally making hairs stand on end each time at that. We may embrace the same intention of awareness when playing the music of Brahms and Mozart, Poulenc and Milhaud. Playing the notes and then forgetting them. Meaning our spirit and true nature takes command over our controlling and suppressive musical tendencies. So we can flow and therefore speak through the notes of the music like a new wave of consciousness. So we can feed our audience something new and inspirational; even though the presentation of notes, their order, melodies rhythms and harmonies of the music, may have remained the same as they have always been for the past 300 years.
A key goal in jazz music is to be open to the moment musically and to respond accordingly, rather like a medium of sort; a musical response to the musical inclinations of the other performing musicians on stage. Also to the audience; aiming to create a new melody or feeling. I know a Danish pianist composer and improviser who can improvise complete works of music. Every time he plays it will be different to anything you heard previously. He simply has an open channel to universal energy flow. So therefore if we can do this It must be possible for a clarinetist to tap into subtle energies in a room of people so to create a euphoric feeling in them when playing the music of Bach for example.
Once at a small Improvised music event in London, two experimental improvisers toyed on stage. They toyed around looking for new ways to turn their performance, and to take the audience by surprise. At one point the bassist of the duet rolled up a carpet he was using to keep his bass in place while playing and began hitting his bass with the carpet, producing some weird but different acoustic effect. "What is that man doing to that lovely instrument?" was the general feeling in the room. Through the ensuing shock that followed and general apprehensive atmosphere in the audience created by this action, someone shouted out "Rubbish!" a brief pause followed, then…"rubbish rubbish, rubbish, rubbish, rubbish." The very next turn in the music saw the musicians using the word rubbish spontaneously in their improvisation. Be clear on this, not to say improvisation is rubbish, because it is an art form as valid as any.
The new iPhone 7 comes out this soon, if you want to be on the edge of it all; include a new ringtone from the latest iPhone in your current recording. This is something that could never have happened in the past.
So in summary modern clarinet performance has everything to do with present moment awareness and responsiveness to what's happening in the moment. These might be thought processes, sensations, dreamscapes as well as physical occurrences. Both jazz and classical music it is the same processes at play; tune up and tune in.
Have Fun, David
© The Wellness Clarinet Ltd 2016
Tags: clarinet and saxophone, clarinet music, how to play the clarinet, learn to play the clarinet, music and memory, music and wellness